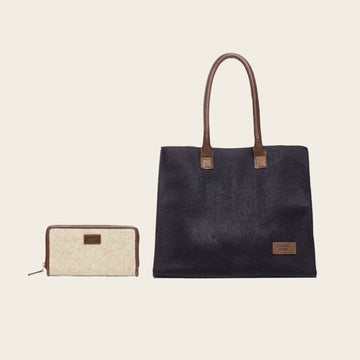 The Daily Pack
Add custom embroidery to your order
Custom embroidery Field is required.
Our embroidery has a lead time of one week. Add text above exactly how you would like it to look including with or without full stops. Please leave a note in your cart if you have any specific instructions about your order. 
Description
+
-
Meet the Honest Wolf Daily Pack.
The by-your-side-through-it-all Everyday Bag and Zip Wallet pairing. Both made with Papanui Estate Wool, New Zealand leather, and printed with a map of our land in the cotton lining. Guaranteed to venture wherever the day takes you.
•
The Everyday features a s
lip pocket for laptops, keys and accessories
, as well as two
water bottle holders.
•
The Zip Wallet has a spacious p
ouch for loose change
, a sleeve
for cash
,
and e
ight slots for cards.
•
Both are made with s
ustainably grown and sourced materials.
Shipping
+
-
Nationwide or worldwide, Honest Wolf ships here, there and everywhere. All of our pieces have next day hassle-free shipping with a flat fee of $19 within New Zealand if you spend over $150 (on our larger items such as weekenders, satchels and backpacks) or if under $150 (on smaller items such as caps) it will be $10. For international delivery fees, or to see our 30 day returns policy, head to our shipping or returns page.
Honest materials for an Honest Wolf
Our luggage and accessories are made to weather the farm before we let them leave the gates. That's why we only use Papanui Estate Wool, New Zealand Leather and high quality cotton. 
"Sits well on your shoulder, straps aren't too long & sits perfectly on the floor. I could go on & on…. Love this bag"
Gemma, Tote Bag
"My Weekender has survived camping, surfing, snowboarding, and even a couple of stag do's. It's my go-to whenever I'm on the road."
Jason, Weekender
"This is the bag of bags! I absolutely love it. It's useful, classy and comfortable to carry. My favourite part is the lining."
Tracy, The Tote
"I'm a big fan of your products. People rave about my Tote Bag. It's brilliant. I only wish I had it 7 years ago when I first became a working Mum. Brilliant innovation"
Gemma, Tote Bag
"They look fantastic and this special gift will be enjoyed by the young couple on their travels over the coming years."
Carol, Weekender